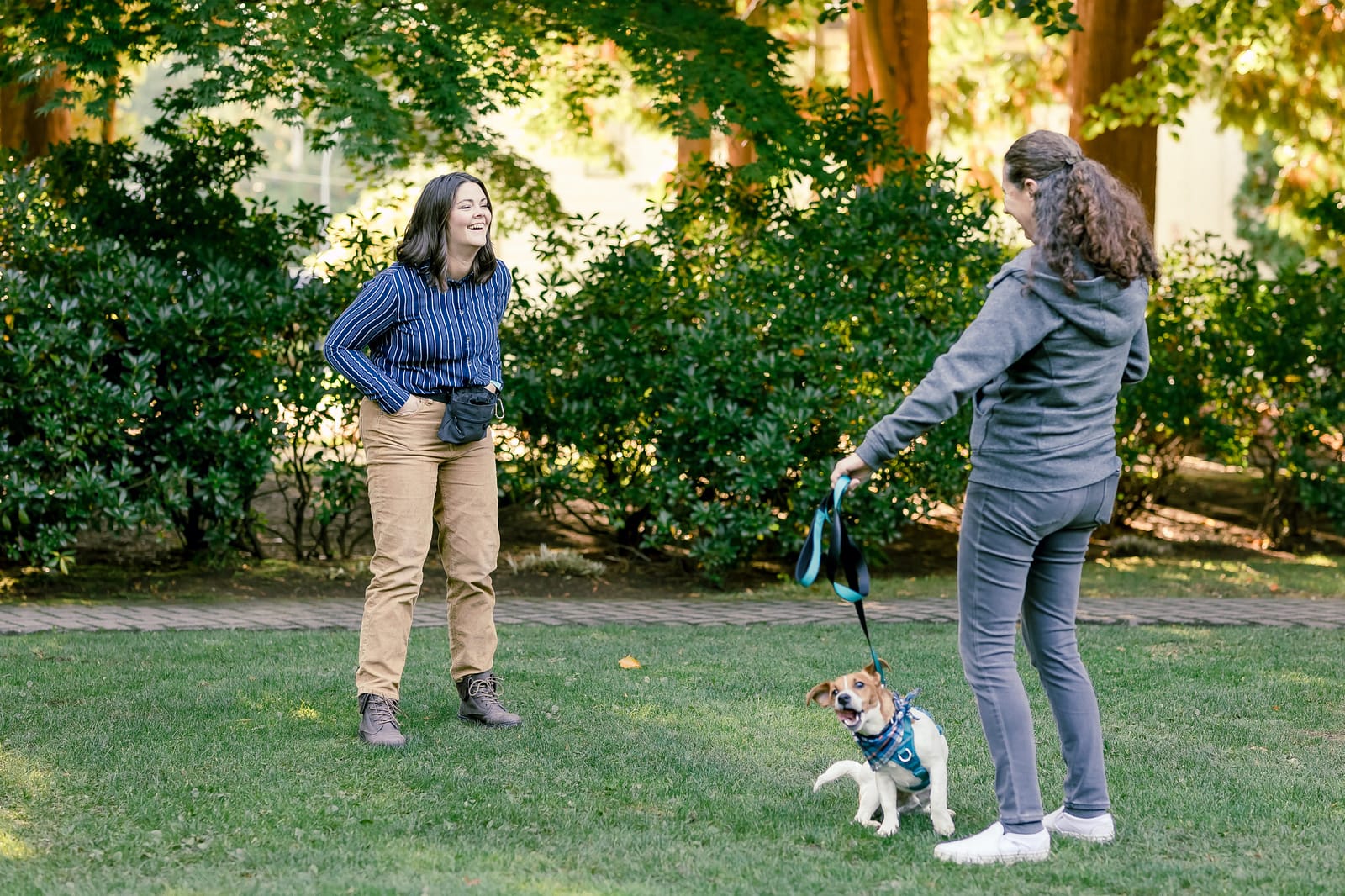 Canine Basics 1 Class Details
6 One hour group classes
For dogs who are 20 weeks and up
Two handlers max per dog
5 dogs max per class
Hosted at Clayton Park in Surrey, BC
* Please make sure your dog's vaccinations are up to date 7 days prior to the start of class
Available Start Dates
May 11th (5-6pm) 
June 12th (6-7pm) 
August 14th (530-630pm)
September 7th (5-6pm)
What Will You Need?
Front Connection Harness
6 foot leash
Treats and easy access treat pouch
POSITIVE energy for your pup
* No prong, choke, or shock collars allowed in class
What Is Our Goal For This Class? 
This class is perfect for puppies or dogs who are just beginning their training journey or for people who want to freshen up their dogs skills. This class will give you a great foundation to set yourself up on the right paw with your dog's training! In this class, you will learn how to train with your dog in a positive way and you'll even learn some basics about how dogs learn, dog body language, socialization, and more.
This class is designed to give you an overall picture of how to set your dog up for success. Along with teaching you how dogs learn and the techniques we use to encourage your dog to listen better, we will also discuss other aspects of having a dog like socialization and dog body language.
Important Note: Group classes are NOT appropriate for dogs with reactivity. Reactivity can include: fear, aggression or over-excitement. While we love each and every pup, it becomes difficult for your trainer and the others in class when we are not able to focus as a group. If you are part of a class and your pup is experiencing reactivity, we will happily work with you to find time for private sessions that will better set you and your dog up for success.
Topics about raising a new puppy that we cover in class:
Dog Body Language
Proper Socialization
Body Handling (How to properly handle your puppy so they become comfortable with being touched all over)
Cooperative Care (Introducing a nail clipper and brush)
How to properly introduce a harness to your puppy
Dog training skills that you will learn during class:
Sit
Watch Me
Down
Down + Stay
Recall
Drop It
Leave It
Leash Skills
Greetings
Place Cue
Sit and Stay
We like to keep our training fun so remember to bring your positive energy to class and be ready to laugh things off. Dogs are unpredictable and funny creatures, let's learn to laugh together! If there is time, we like to add in a few fun tricks to do with your dog too!
Additional information
| | |
| --- | --- |
| Start Date | May 11th (5-6pm), June 12th (6-7pm), August 14th (530-630pm), September 7th (5-6pm) |